Figuring your way around the roads circling the Old Town of Split can be quite disheartening for the first-time visitors. While traffic in most of the town is pretty straightforward, the low capacity network of roads around the Old Town, most of which are one-way or available only to public transport vehicles and permanent residents, induces confusion even on the most experienced of drivers. In this short overview of traffic around the Old Town, we hope to spare you of some of the most common mistakes first-time comers to Split make when arriving by car, which could save you hundreds of kunas on traffic and parking tickets.
1. Do you need a car to move around Split?
Travelers coming to Split sometimes expect the distances in the city center to be much larger than they actually are. In fact, the whole of the Old Town is pretty compact and moving around by foot takes little time. Moreover, the entire area of the city center is pedestrian-only zone, so cars are of no value there. Travelers staying in accommodation within or near the Old Town will have little or no need for a car, as almost all the city's touristic attractions are located within the central pedestrian zone. Those staying outside of the city center, might want to use their car to get to the Old Town, but they should be vary that parking can be hard to find, particularly during the busy summer months when even the larger parking lots with tollbooths can get full throughout the day. So make sure to check out our guide to parking around the Old Town.
2. Should you rent-a-car in Split?
As stated above, using a car in Split for sightseeing around the city center is a particularly bad option. As the whole city center is within a walking distance, a rent-a-car should in our opinion only be considered for trips outside of the city. Apart from travelers who visit Split with a rental on their way from Dubrovnik, Zagreb or Zadar, travelers based in an accommodation in Split often take rentals in order to visit the nearby towns of Trogir and Omiš as well as Krka and Plitvice National Parks. Another popular one-day destination on the coasts are the towns of Zadar and Šibenik. So rental cars can be an excellent idea for those travelers staying in Split for a slightly longer period, i.e. 3-7- days, who will have time to get the most of road trips throughout Dalmatia.
For those who just want to stay in the city, we recommend to use the services of taxis and ridesharing companies that offer a more time-efficient mean of traveling around the city.
3. Using the road on Zagrebačka ulica between Ulica Marina Držića and Vukovarska ulica
One of the most common mistakes we see on the roads is cars with foreign license plates strolling down Zagrebačka ulica between Ulica Marina Držića and Vukovarska ulica. This is a route that is forbbiden for all traffic with the exception of buses, taxis, permanent residents with issued permits and drivers with disabilities. Though road signals indicate that regular drivers are not to enter this zone, they are perhaps not as expressive as they could be, which results in many first-comers opting to go through this route. Making this mistake can hurt your pocket as the local police occasionally will send a patrol to the area which might leave you with a hefty fine.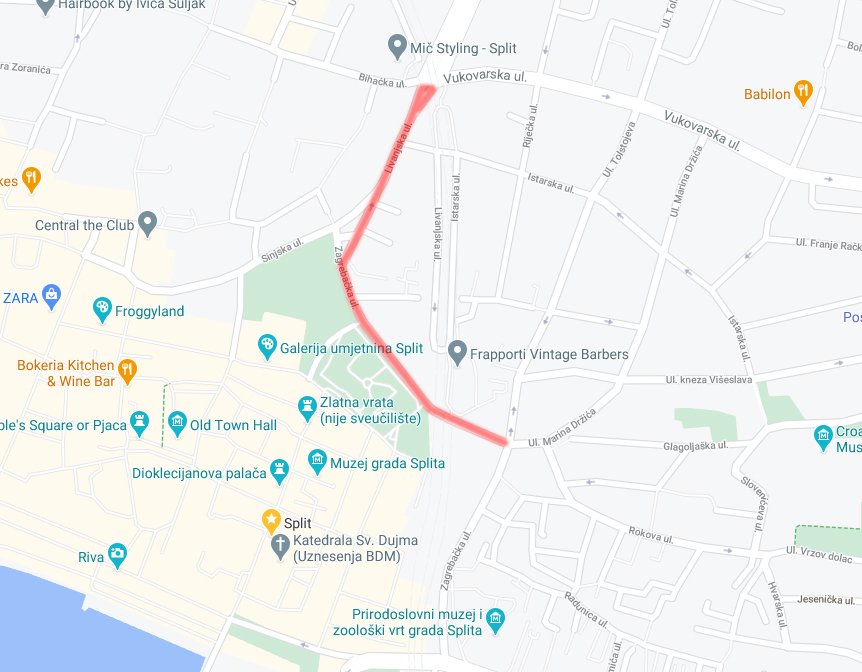 The section of Zagrebačka in red is closed for regular traffic apart from buses, taxis, permanent residents with issued permits and drivers with disabilities. Click on the image to open it in Google Maps.
4. Parking your car next to Đardin park
One of the main source of income for Split's towing service has to be the little parking area near Đardin Park. Not only is it accessed via the section of Zagrebačka ulica which is closed for regular traffic, but it is also not a public parking. The only vehicles allowed to park there long-term are cars that have a disability sticker, for obvious reasons that it allows such persons easier access to the city center. The only other vehicles allowed in this zone are supply cars, which cannot park there long-term, but can stay until they load or unload stuff. The high turnaround of supply vehicles, many of which are supplying the sellers on Pazar Green Market, often leads unassuming drivers who had already broke the traffic rules by driving through Zagrebačka ulica, into thinking that they too can leave their car in the area. Most people leaving their car there will have it towed away shortly as traffic inspectors patrol the area regularly.

The area near Đardin Park (Park Josipa Jurja Strossmayera) in purple is reserved only for supply vehicles and drivers with disabilities.
5. Prepare ahead and save yourself some hassle
Quite often travelers coming to Split by car don't take their time preparing ahead for the rather confusing experience of navigating the smaller roads around the Old Town. Whether you are coming to the city center to visit Diocletian's palace and other cultural landmarks or arriving at your booked accommodation, we strongly suggest that you take a few minutes to take a look at Google Maps, in order to get an idea of where you need to get so that you know where you should be looking for parking. For the latter, make sure to browse through our guide on parking in Split.
If you think we missed something or you want to share your driving experience in Split, leave us a comment bellow! Just make sure you don't make the same mistakes as some of the drivers from our compilation bellow: